Zubrowka Bison Grass Vodka Flavoured 70cl / 37.5%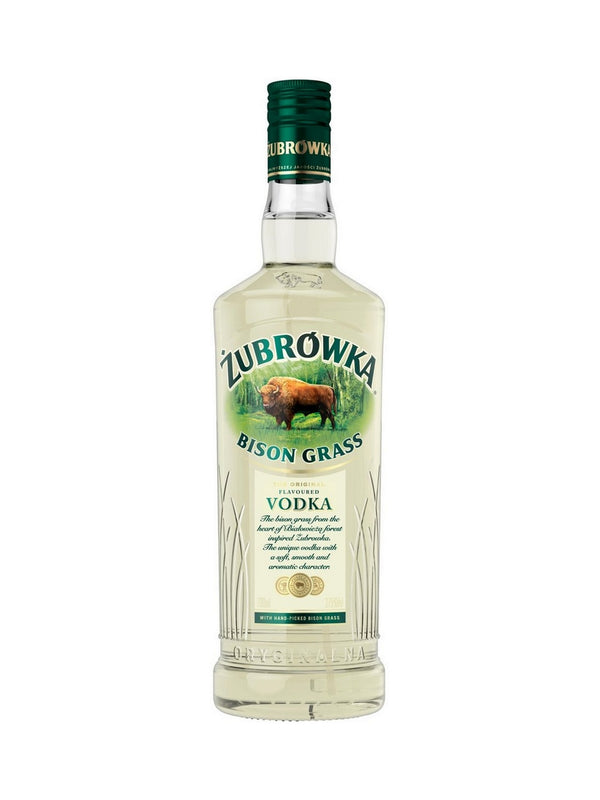 Each bottle contains a blade of bison grass added by hand, giving Żubrówka its unique and aromatic taste. A taste of real nature. Żubrówka Bison Grass is the world's Number 3 vodka and prolific gold medal winner. The legendary Żubrówka story started over 500 years ago in the primeval Białowieża forest. A forest that makes up Europe's invaluable green lung. A world heritage site protected by UNESCO where Europe's last remaining herds of wild bison roam free and where wild bison grass grows in the glades.

🇵🇱 Żubrówka to znana na całym świecie legendarna polska wódka – jedyna w swoim rodzaju marka z blisko 500-letnią tradycją. O jej wyjątkowości decyduje szczególne miejsce, z którego się wywodzi – Puszcza Białowieska – oraz zakorzeniony w historii sposób jej wytwarzania. Żubrówka jest jedną z najlepiej rozpoznawanych polskich marek na świecie, trafiła do konsumentów w ponad 70 krajach – m. in. w USA, Japonii, Australii, Francji, Wielkiej Brytanii, czy Niemczech. Receptura Żubrówki Bison Grass należy do najpilniej strzeżonych sekretów. Rytuał tworzenia trunku zaczyna się od poszukiwania, zbioru i selekcji trawy żubrowej, rosnącej dziko w Puszczy Białowieskiej. Z odpowiednio przygotowanej trawy otrzymuje się ekstrakt, który zestawiany jest z najwyższej jakości spirytusem. Zgodnie z recepturą do produkcji Żubrówki wykorzystywana jest wyłącznie krystalicznie czysta woda.