Krupnik Cappucino Vodka Liqueur (Cappucino) 50cl / 16%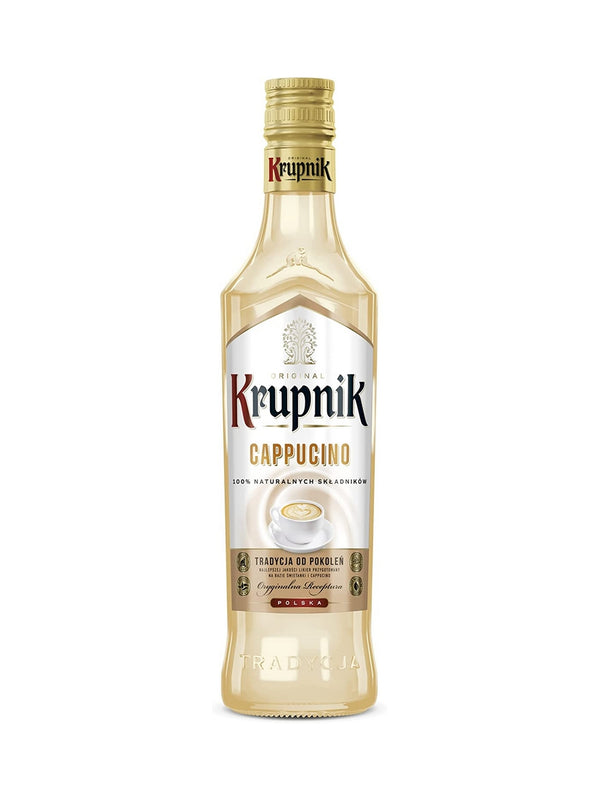 Krupnik Cappuccino is a combination of fragrant coffee and cream. Its delicate, creamy texture allows you to immerse yourself in the flavours of sunny Italy. Cappuccino Krupnik Liqueur consists exclusively of natural ingredients and fragrant coffee combined with the highest quality spirit. It is perfect in cocktails, as an addition to desserts and coffee, and for sipping neat from liqueur glasses.
🇵🇱 Likier cappuccino to trunek dedykowany miłośnikom słodkich, aromatycznych alkoholi. Produkowany jest on z naturalnych, odpowiednio wyselekcjonowanych składników. Jego bazę stanowi wysokiej jakości spirytus z dodatkiem kawy i śmietanki. Likier cappuccino marki Krupnik idealnie smakuje solo, a także jako dodatek do różnorodnych drinków, koktajli deserów i kaw. Najlepiej podawać go schłodzonego w specjalnych kieliszkach na wysokiej nóżce. Warto zaserwować likier cappuccino tuż po głównym posiłku jako słodki akcent.