Miodula Prezydencka Liquor 50cl / 40%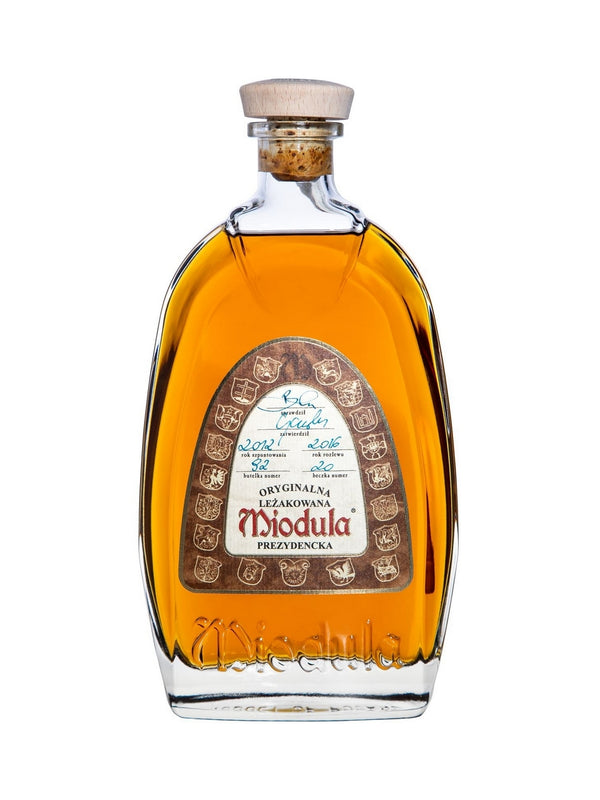 Presidential Miodula is aged in oak barrels, which give this great vodka notes of oak and vanilla. A controversial version of Miodula. Each bottle is signed separately. The label tells you the date of spitting (closing the barrel with liquor), bottling, barrel or bottle number.
🇵🇱 Miodula Prezydencka leżakuje w dębowych beczkach powstałych ze starannie wyselekcjonowanych polskich dębów. Każda oryginalna beczka poddawana jest specjalnej obróbce polegającej na dokładnym jej opaleniu. Dzięki temu ogrom związków aromatycznych zawartych w dębinie migruje do alkoholu nadając mu niepowtarzalny i tradycyjny smak. W 1772 roku, za panowania Józefa II, Miodula zyskała rangę carsko-królewskiego napitku reprezentując najwyższą klasę wysokoprocentowego alkoholu. Tworzony z wielką pasją w oparciu o staropolską recepturę zachwyca bogactwem smaków i aromatów. Piękna bursztynowa barwa trunku kryje w sobie kompozycję naturalnego miodu spadziowego z subtelnymi nutami wanilii. Dodatkowo krystalicznie czysta górska woda oraz najlepszy polski spirytus gwarantują otrzymanie najwyższej jakości trunku, który wprawi w zachwyt najbardziej wymagających koneserów. Każda oryginalna butelka opisywana jest ręcznie i posiada swój indywidualny numer.