Chopin Vintage Polish Potato Vodka in Tube 50cl / 45,3%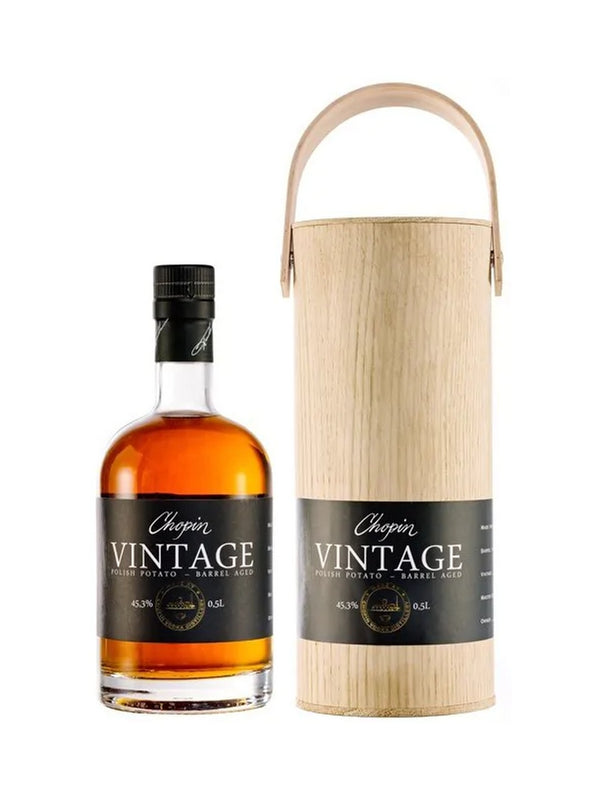 Chopin Vintage Potato Barrel Aged Vodka is a delicious vodka from the Polish Podlasie region. It is produced in the legendary Polmos Siedlce from potato distillate which is then aged in oak barrels. Such a treatment provides vodka with an extremely rich bouquet of aromas and flavors. The aroma features intense, dried fruit with an admixture of horseradish roots, while on the tongue you can feel a slight sweetness with notes of dark chocolate and plums. Finish quite rich with notes of pepper and allspice. It is worth noting that Chopin Vintage, in contrast to classic vodkas, has a slightly higher alcohol content, i.e. 45.3%.
The above bottle is packed in an elegant miniature bucket, which will be perfect as a gift.
🇵🇱 Chopin Vintage Potato Barrel Aged Vodka to wyśmienita wódka pochodząca z polskiego Podlasia. Produkowana jest w legendarnym Polmosie Siedlce z destylatu ziemniaczanego który następnie poddawany jest starzeniu w beczkach z polskiego dębu. Taki zabieg zapewnia wódkę o niezwykle bogatym bukiecie aromatów i smaków. W zapachu wyczuwalne są intensywne, suszone owoce z domieszką korzeni chrzanu natomiast na języku wyczuć można lekką słodycz z nutami gorzkiej czekolady i śliwek. Finisz dość bogaty z nutami pieprzu i ziela angielskiego. Warto podkreślić iż Chopin Vintage w odróżnieniu od klasycznych wódek posiada nieco wyższą zawartość alkoholu tj. 45,3%

Powyższa butelka zapakowana jest w elegancką tubę, która idealnie sprawdzi się jako prezent.