Chopin Potato Vodka in Tube 70cl / 40%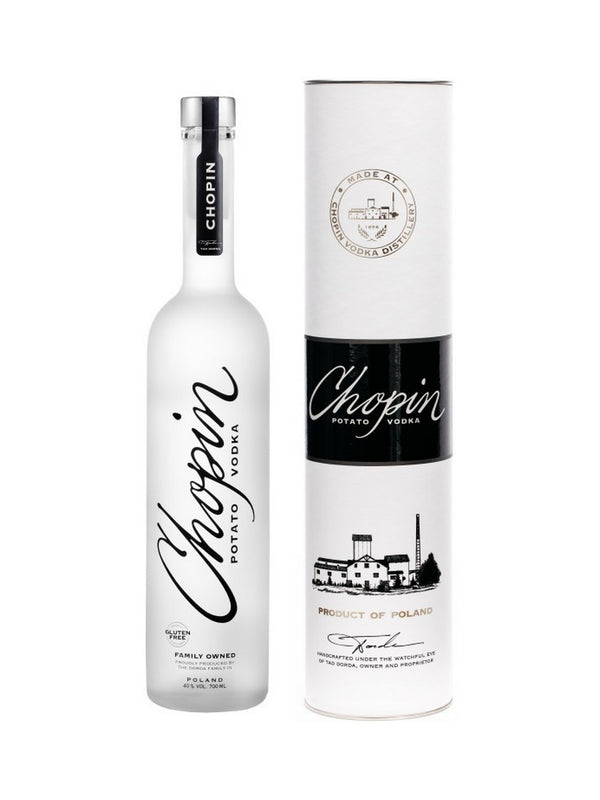 Perhaps the best known of all potato vodkas, Chopin Potato Vodka is an award-winning formulation hailing from Poland with quite a unique flavour profile. It starts out creamy, with notes of vanilla balanced by the slight tartness of green apple, then opens to a clean, refreshing finish that's oh, so satisfying. We love this chilled to just about freezing, or mixed into a classic martini for an elegant edge.
The above bottle is packed in an elegant tube, which will be perfect as a gift.
🇵🇱 Pierwsza i jedyna na świecie luksusowa wódka produkowana z ziemniaków, która pojawiła się na polskim rynku w 1993 roku. Z kolei na rynku amerykańskim swoją premierę miała w roku 1997, tworząc nową kategorię wódek oraz nowy standard, do którego inni dążyli. Chopin Potato Vodka jest wyrazem niezależności, oryginalności i wytworności. Cechy stanowiły inspirację dla uderzająco pięknego wzoru butelki, który dopełnia wyjątkowo kremowy, bogaty smak i zapach alkoholu. W 2006 roku Chopin Potato Vodka zdobyła podwójny złoty medal w konkursie World Spirits w San Francisco.

Powyższa butelka zapakowana jest w elegancką tubę, która idealnie sprawdzi się jako prezent.