Belvedere Heritage 176 Vodka 70cl / 40%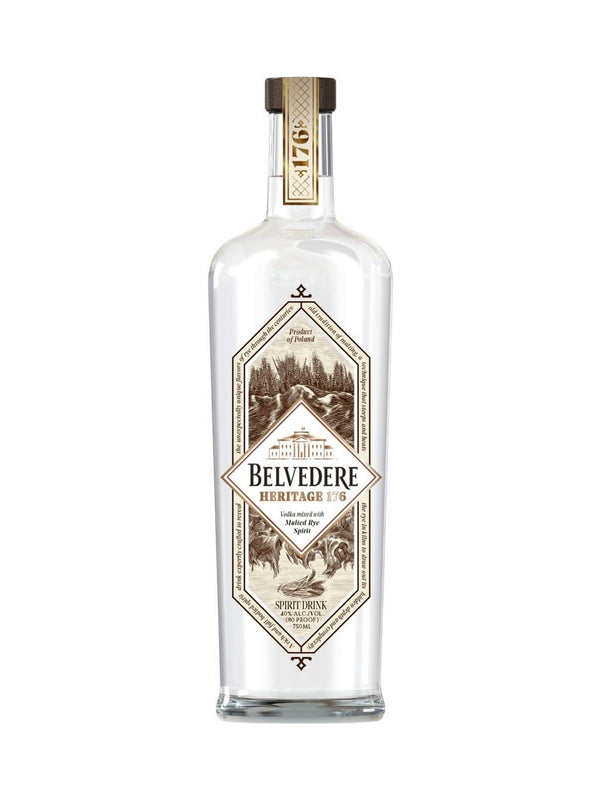 Rich, full-bodied and complex, Belvedere Heritage 176 has been made using the traditional malting method of heating the Dańkowskie rye to 176 degrees, allowing its true spirit to shine through. A vodka for cocktail lovers and those who like dark spirits, Belvedere Heritage 176 is different to Belvedere Pure in every way, and showcases the rye's rich depth of flavour.

🇵🇱 Belvedere Heritage 176 to polska wódka klasy super premium wyprodukowana przez Polmos Żyrardów. Nazwa Heritage (dziedzictwo) jest nawiązaniem do wielowiekowego procesu słodowania żyta, który dawniej był tradycyjnym etapem w produkcji wódki. Natomiast liczba 176 oznacza temperaturę, w jakiej wyprażane jest żyto po słodowaniu. Jest ona podana w stopniach Fahrenheita. Wódka Belvedere Heritage 176 została stworzona z naturalnych, polskich składników, jakimi są żyto oraz krystalicznie czysta woda. Dla dodatkowej głębi i charakteru do końcowego destylatu dodawany jest właśnie spirytus ze słodowanego żyta. Jest to wódka o bogatym i złożonym charakterze. Spośród całej gamy produktów marki Belvedere, wyróżnia ją inny profil smakowy, wynikający z procesu słodowania żyta. Wódka Belvedere Heritage 176, oprócz oryginalnego profilu smakowego, wyróżnia się również odmienną od reszty produktów marki Belvedere butelką zamykaną drewnianym korkiem. Na butelce znajduje się kremowa etykieta, która przedstawia 3 najważniejsze składniki tej edycji – żyto, wodę oraz ogień. Wokół etykiety znajduje się krótka charakterystyka wódki Belvedere Heritage 176. Prosta, a zarazem elegancka butelka jest elegancją samą w sobie, tym bardziej z tak intrygującą zawartością.