J.A. Baczewski Blackberry Vodka Flavoured (Jeżynówka) 50cl / 38%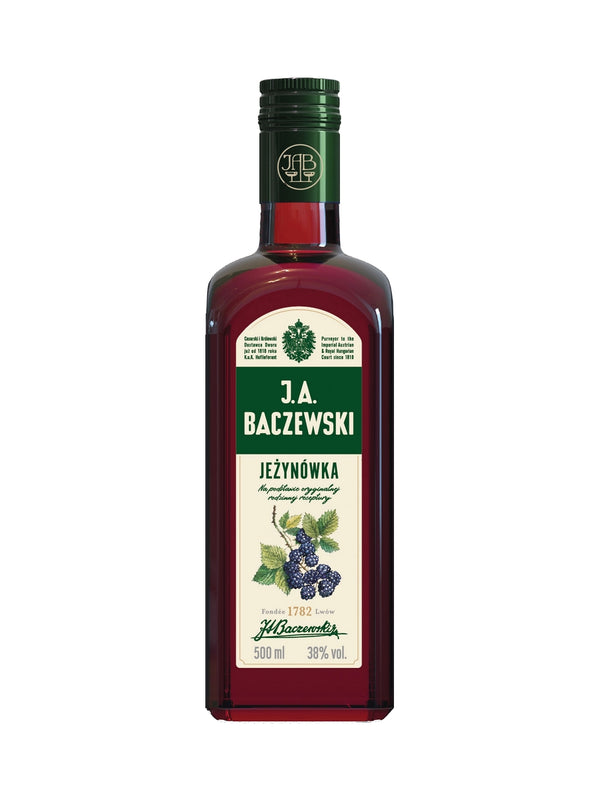 J.A. Baczewski Jezynowka is a traditional natural Polish blackberry liqueur, made from the juice of select blackberries which grow abundantly throughout Central Europe. It has the distinctive aroma and sweet taste of blackberries.
🇵🇱 J.A. Baczewski Jeżynówka to wódka wyprodukowana z najwyższej jakości spirytusu ziemniaczanego oraz soku z jeżyn. Była trzykrotnie destylowana dzięki czemu ma łagodny i delikatny smak. W zapachu i na podniebieniu mocno wyczuwalne dojrzałe jeżyny z nutami wanilii i ziół. Bez problemu można ją spożywać w temperaturze pokojowej w formie szotów lub jako składnik różnych drinków/koktajli. Świetnie smakuje w połączeniu z winem musującym. Biorąc pod uwagę stosunek jakości do ceny, produkt ten, idealnie sprawdza się na różnego rodzaju imprezach okolicznościowych np. wesele, impreza firmowa czy urodziny.